Farmington Valley Plumbing will make sure you are fully satisfied with the outcome of your investment before walking away. If you're not happy, we're not happy.
121 Rainbow Road
East Granby, CT 06026
info@farmingtonvalleyplumbing.com
Monday – Friday
7:00AM – 4:00PM EST
After hours by request
Delivering the Solutions to All Issues Involving Wells and Pumps in Hartford, CT, and Nearby Areas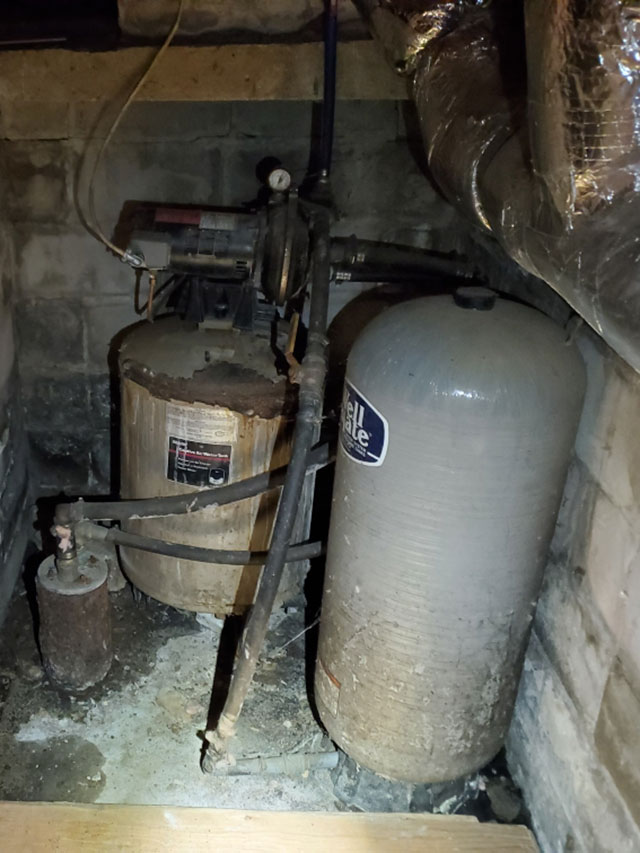 Well pumps fall into one of two categories: jet or submersible. Jet pumps are located above ground and use a motor and suction pipe to pull water above ground. Submersible well pumps operate below the ground and use pressurized water to push water to the surface and into an above-ground storage tank. 
However, even with the perfect well pump, you may experience issues due to:
Expansion tank or pressure switch failure
Failure to invest in regular pump maintenance and repairs
Before and after of a well pump installation
Well services are a very important part of our job here at Farmington Valley Plumbing. If your water supply comes from a well, it's important to make sure that not only the quality of the water is safe and healthy, but also that you have the appropriate products to guarantee fast, efficient, quality water flow for your home.
Having a plumbing specialist out to your home is a sure way to determine if you need a sump pump. A good plumber will take the time to look at the big picture and give you an accurate assessment of your situation. It's very easy to overlook the small things that could cause big problems. Paying for experience can really save you time, money, and headache.
Here are few questions you need to ask yourself when considering if you need a sump pump:
Has your basement flooded before?
Does your home set in a valley or flat low-lying area that tends to hold ground water?
Does your residence get abnormal amounts of snow or rain throughout the year?
Do you have a basement that stores costly belongings or has been finished into living space?
Do you already have a sump pump that is older than six years?
If you've answered yes to any of the above questions, give Farmington Valley Plumbing a call. We can get you scheduled in and help make sure your home will stay dry for years to come.
While they may sound similar, sewage and grinder pumps operate differently to dispose of raw sewage. If you suspect an issue with either your sewage ejector pump or septic grinder pump, please do not hesitate to call us.
Condensate pumps collect and disperse hot water and liquid produced by condensation from heating systems, such as gas and oil condensing boilers, from the production of refrigerated air, such as air conditioning and refrigeration systems, air dehumidifiers, etc.  These units can leak, make noise, or stop working. If you're not sure yours is working correctly, give us a call.
Your basement can be full of lots of irreplaceable memorabilia, so not taking simple precautions can be a costly mistake. All mechanical pumps eventually fail, and when these go out, it's usually too late. We recommend that you check your pump a few times a year. If you don't have a sump pump, need one replaced, or just want a qualified technician to inspect your existing one, then schedule a service call today.