Farmington Valley Plumbing will make sure you are fully satisfied with the outcome of your investment before walking away. If you're not happy, we're not happy.
121 Rainbow Road
East Granby, CT 06026
info@farmingtonvalleyplumbing.com
Monday – Friday
7:00AM – 4:00PM EST
After hours by request
Environmentally Friendly Hydro Jetting in Hartford, CT, and the Surrounding Areas
As hard as you might try to keep your drain and sewer lines in tip-top shape, you may find yourself dealing with extra tough clogs from time to time. But before you start thinking that you need complete pipe replacement, contact Farmington Valley Plumbing. We use hydro jetting in Hartford, CT, and nearby areas.
We carry a complete set of pipe jetting equipment to clean pipes of all sizes and types, from small systems for lines like bathrooms and kitchens to large systems suitable for storm drains, external main sewer lines, and other bigger pipelines. Whether you run a busy restaurant or own a home, hydro jetting serves as the best way to knock stubborn clogs out of your pipes.
Our drain cleaning company serves: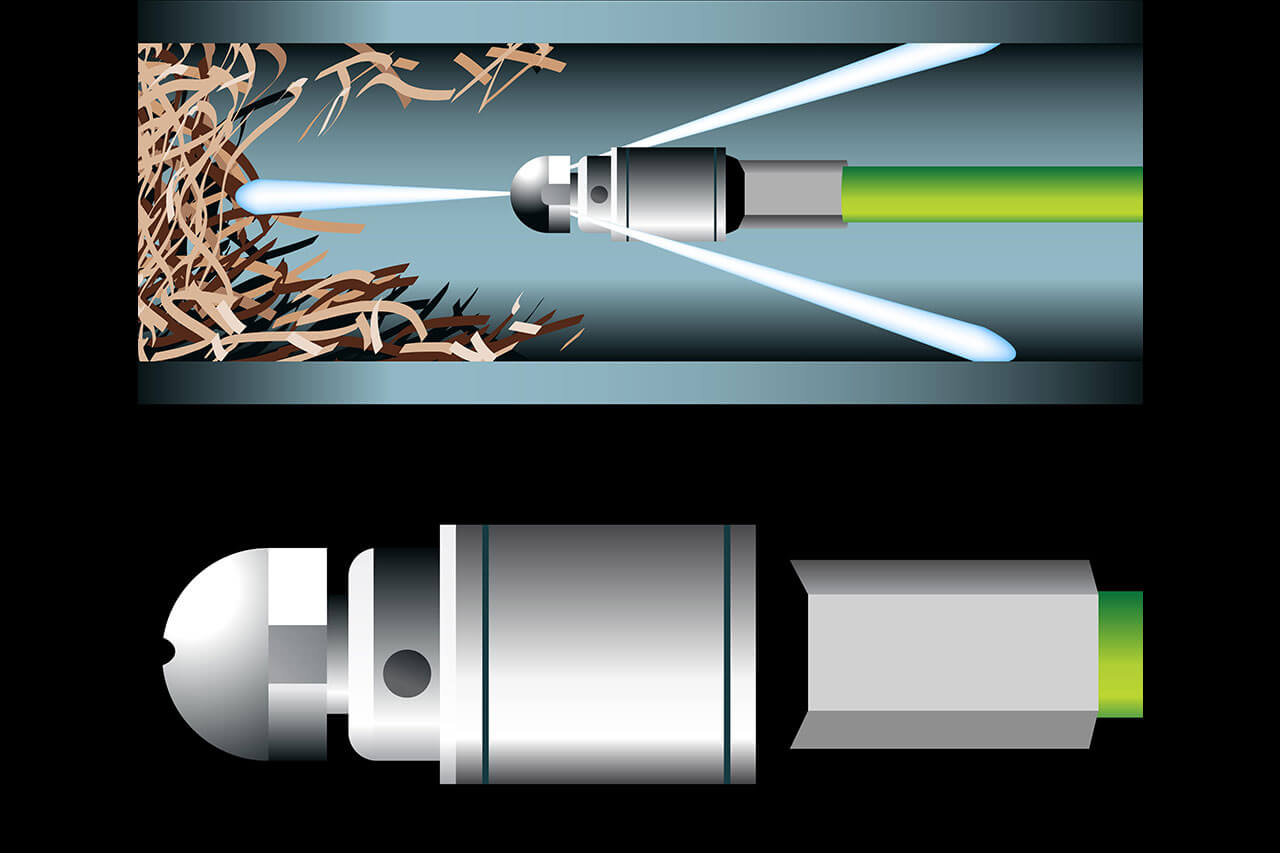 Hydro Jetting is a method used by professional plumbing contractors to clean clogged or slow sewage lines. A blast of high-pressure water is sent into the lines that will usually remove blockages and build-up. Hydro Jetting systems normally use about 4000 psi, which works very effectively. This is superior to standard practices and can be quite beneficial for your plumbing system. Hydro jetting can remove all kinds of debris in pipes, including:
Tree roots (in some cases)
When done by a trained professional, hydro jetting can clear your pipes of debris safely and effectively, which not only helps with water and waste flow, but also increases the longevity of your pipes and cuts down on your water bills, as your system is now more efficient.
The Top Benefits of Hydro Jetting
Sewer jetting does more than just clean your pipeline. This process is so thorough that it helps prevent future clogs, extending the life of your pipes and preventing costly repairs down the road. In addition, hydro jetting can clean tricky, hard-to-access drains, and it's gentler on your pipes than a drain snake or router.
What Types of Debris Can Be Removed With Hydro Jetting?
Hydro jetting is a powerful and effective drain cleaning method that removes clogs caused by a variety of debris, including grease, mineral buildup, soap scum, hair, food particles, and foreign objects.
Is Hydro Jetting Safe for Frail, Old Pipes?
Hydro jetting can deliver a powerful force. If you have frail, old pipes, the water pressure can cause damage to some pipes. Also, if tree roots have infiltrated your pipes, hydro jetting roots can cause additional problems by allowing soil and rocks to invade the pipes through the perforated lines. That's why we always recommend that you contact a plumbing expert to assess the situation and determine the most appropriate way to remove the clog.
How Often Should Hydro Jetting Be Done?
We recommend sewer jetting done every one to two years as a preventative measure to maintain the health of your sewer and drain lines.
Signs to Watch Out For
There are a few telltale signs that your system needs hydro jetting:
Your plumbing system backs up regularly
Your bathroom or kitchen sink drain smells
You hear noisy or gurgling pipes
You get a lot of clogs, even though you're mindful of what you put down your drains
If you're in any doubt about whether you need a hydro jetting service, it's worth calling Farmington Valley Plumbing and asking for a video line inspection. The cost of a sewer line camera inspection is insignificant compared with the cost of replacing your sewer line.
Why Hire Our Hydro Jetting Experts?
For over 20 years, our professional plumbers have delivered the long-term solutions that Hartford home and business owners need to address their plumbing needs. We are continuously trained in the latest plumbing technologies and are fully equipped with cutting-edge tools and equipment necessary for resolving even the toughest plumbing problems. Plus, we treat our customers with respect and provide them with unparalleled customer service. When you hire hydro jetting experts, you can rest assured we'll complete your drain cleaning right the first time.
Licensed, bonded, and insured status
Workmanship Guarantee for at least 30 days
Trusted and recommended since 2018
Excellent customer service
Get in Touch With Us and Benefit from Hydro Jetting
Don't allow recurring clogs cause trouble in your Hartford home or business. Get the professional help you need by scheduling hydro jetting services with Farmington Valley Plumbing today. Call us or fill out the online form to book your appointment.