Farmington Valley Plumbing offers a wide range of plumbing services to fit your project or problem.
121 Rainbow Road
East Granby, CT 06026
info@farmingtonvalleyplumbing.com
Monday – Friday
7:00AM – 4:00AM EST
After hours by request
Your Go-To Provider of Plumbing Services in Hartford, CT, and Nearby Areas
When you need the help of an expert for any plumbing services in Hartford, CT, and the surrounding areas, don't underestimate the value of hiring one with a stellar reputation. A skilled company means the difference between services that can offer a long-term solution and getting an amateur who could even worsen the problem. Farmington Valley Plumbing has the skills, experience, and equipment to meet your plumbing needs.
We're a family-owned and operated plumbing company that has been serving the Hartford area for over 20 years, so we know exactly what your home or business needs to get back on track quickly.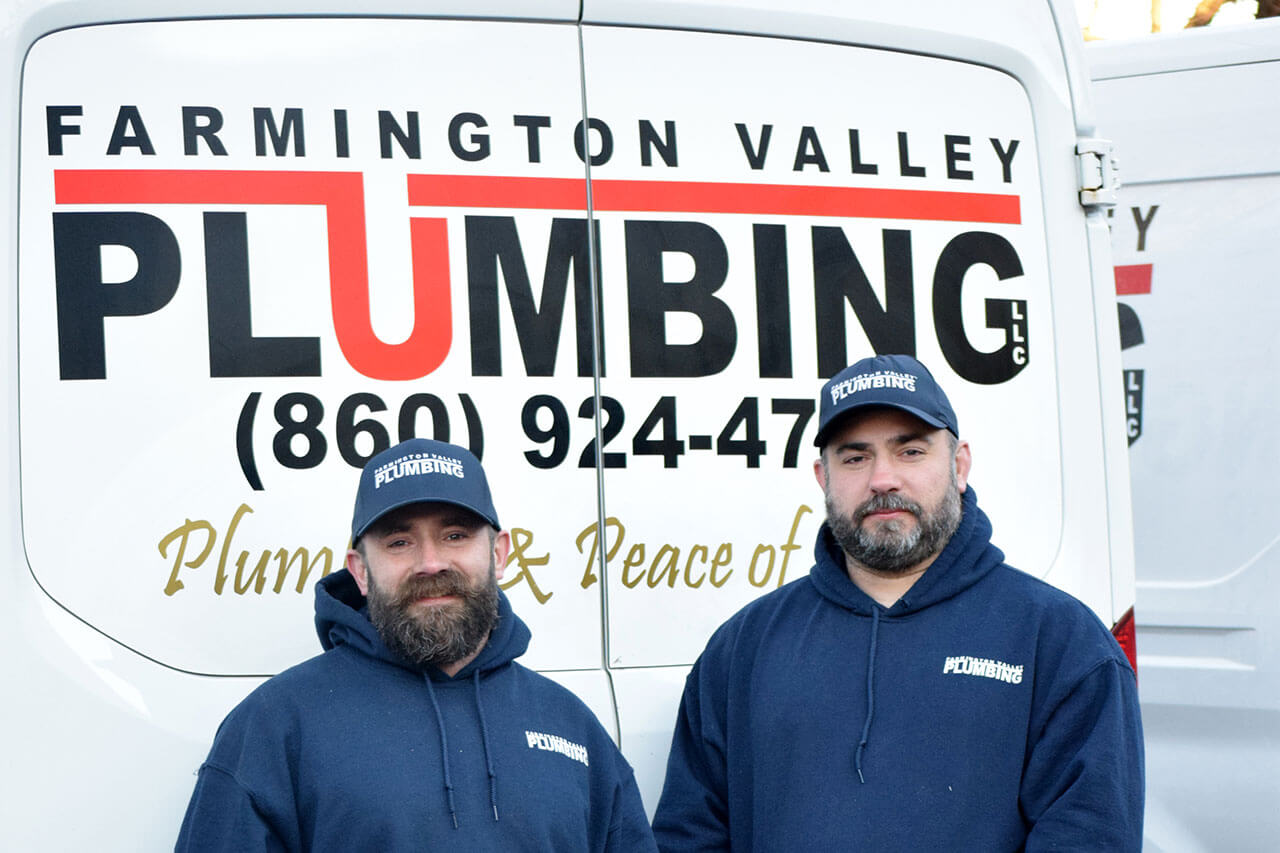 WHY LOCALS TRUST US
Farmington Valley Plumbing is a solution-driven, action-oriented company with over 100 years of combined experience. We work to find the root cause of your residential and commercial plumbing issues. We employ exceptional men and women who are dedicated, knowledgeable professionals to be by your side from the initial phone call through to the project completion.
Licensed, bonded, and insured status
Trusted and recommended since 2018
Workmanship Guarantee for at least 30 days
A LOOK AT OUR SERVICES
Here are some of the top services we offer to our clientele when they need a plumber in Hartford, CT, or other areas we serve:
Residential service work is a major part of running a plumbing shop. Regardless of the job size, large or small, we put forth the extra effort to make sure our neighbors are taken care of.
We also treat each and every customer's home just like it was our own, and carefully hand select our technicians, so the customer gets the job done right the first time.
If you're looking for a plumber, look no further! Call today to schedule an appointment!
Our technicians can accurately troubleshoot and provide customers with long-term solutions. We focus on the root cause of your plumbing issues and will always provide you with a knowledgeable and comprehensive solution.
Commercial businesses rely on keeping their doors open for customers. When a business has plumbing issues, they need to be addressed immediately. Down time is just not an option. Not having hot water or a working restroom can turn your business upside down quickly. Farmington Valley Plumbing knows this and goes the extra mile to get your place of business up and going again. When we say we will be there, you can count on it!
Do you have a slow drain in your home? Don't let the issue get out of hand. We provide expert drain cleaning services to remove any obstruction fast.
If you have a particularly stubborn clog, such as tree roots, our team will use hydro jetting to clear your pipes quickly.
It's imperative to address gas line issues quickly. Farmington Valley Plumbing offers fast, dependable, and safe gas piping installation, repair, and appliance conversion services.
PREVENTATIVE PLUMBING MAINTENANCE
Most home and business owners run into plumbing issues that could have been avoided with routine plumbing maintenance. Farmington Valley Plumbing consists of rigorously trained plumbers who can maintain your plumbing system and keep it working as it should. We also provide timely plumbing maintenance plans designed to stop minor issues before they worsen and prolong the life of your plumbing in the process.
It's crucial to know the location of the problem to save time and money. Thanks to our state-of-the-art camera equipment, we can detect the problem quickly and determine the best solution.
When your water heater malfunctions or fails altogether, we're prepared to handle the job quickly and effectively. We repair all types of water heating systems, including traditional, tankless, and hybrid models.
If you're concerned about the quality of water in your property, count on us to offer a lasting solution. We'll be sure that you get the best water filtration system to remove all unwanted pollutants that cause scale buildup and other issues.
We're experts in all aspects of well and pump services. Whether you need to drill a well or repair your water pump, we can help.
AREAS WE SERVE
Our team is here to serve residential and commercial clients in:
CONTACT OUR TEAM FOR THE BEST IN PLUMBING SOLUTIONS
Look no further than the experts here at Farmington Valley Plumbing for reliable plumbing services in the local area. Call us or fill out our convenient online form to schedule your appointment with us. We look forward to hearing from you.